Lucid Robotic Transcranial Doppler Ultrasound System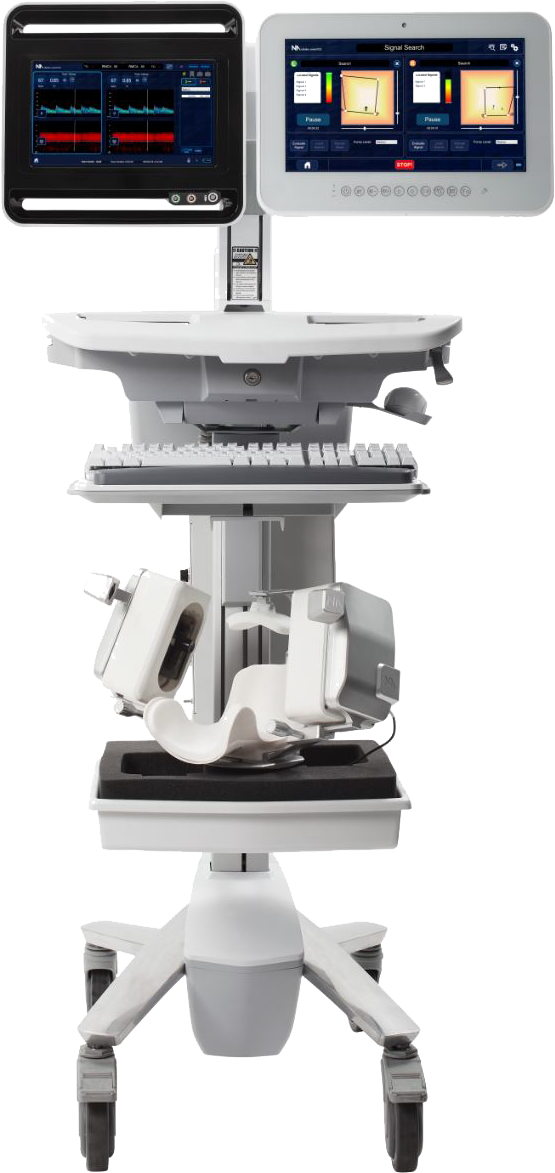 What is the Lucid Robotic System & how does it work?
The Lucid Robotic System (FDA & CE Cleared) is a combination of the Lucid M1 Transcranial Doppler Ultrasound System, an all-in-one neurovascular ultrasound device designed to non-invasively measure and display brain blood flow information, with NeuralBot, a 5-axis medical robotic headset which automatically adjusts orientation and position to collect blood flow data under the guidance of a healthcare professional. It integrates ultrasound, robotics and machine learning.
The robotic ultrasound technology enables clinicians to noninvasively monitor a patient's brain blood flow characteristics and provide critical information to help diagnose neurological disorders such as stroke. It can be employed throughout the stroke care chain from initial assessment to post intervention recovery monitoring.
Doppler has several existing approved neuro applications we can utilise, and which are applicable to our improved robotic technology:
Thrombotic Occlusion
Vasospasm
Stenosis
Ischemia
Edema
Aneurysm
Sickle Cell Anemia
Emboli Detection
Brain Death
Clinical Evidence
Data presented at the ESNCH congress in April 2018 demonstrated there was no statistical difference between ultrasound blood flow data collected with its new NeuralBot robotic system or data collected manually by a trained sonologist using its traditional ultra-sound platform. Absolute value of the data collected as well as qualitative assessment presented no difference.
Guideline Recommendations
The 2018 American Heart Association/ American Stroke Association Guidelines for Early Management of Acute Ischemic Stroke note that detection of large-vessel occlusion by means of noninvasive intracranial vascular imaging greatly improves the ability to make appropriate clinical decisions.
Interested in knowing more?
Drop us an email on lucid@brawnmedical.com and our team would be happy to reach out and discuss your interest in the Lucid Robotic Transcranial Doppler Ultrasound System or schedule a convenient time for an onsite demonstration/presentation of our technology and its various applications to your clinical team.
We kindly request unsolicited marketing emails not to be sent through to this email address.
The Lucid Robotic System is a fully autonomous robotic TCD system for accurate, objective and reliable neurovascular assessment with approved neuro applications and integrated diagnostic exams for PFO, Emboli, Vasospasm, Carotid, Intracranial & Vascular Stenosis
Indication:
The NeuralBot when used with the Lucid M1 System (Lucid Robotic System) is a medical ultrasound device which assists the user in the setup and acquisition of cerebral blood flow velocity via the patient's temporal windows. It is intended for use as an adjunct to standard clinical practices for measuring and displaying cerebral blood flow velocity and the occurrence of transient emboli within the blood stream.
The NeuralBot is intended to be used by healthcare professionals qualified by training in its safe and effective use. The device is not intended to replace other means of evaluating vital patient physiological processes, is not intended to be used in fetal applications and is not intended to be used inside the sterile field.